Are you looking to host an unforgettable birthday party that you and your child won't soon forget? If so, you may want to consider choosing a laser tag birthday party at Action Jack's in Conway, Arkansas. 
Hosting a laser tag birthday party in Conway, AR, is easy when you book with Action Jack's. Action Jack's offers a state-of-the-art laser tag experience with massive play areas. We also have low-impact paintball, escape rooms, and arcades ready for guests to enjoy!
Not only does Jack's offer great deals on booked parties, but we also offer a wide range of exciting, kid-friendly activities. You and your party can enjoy hours of heart-racing indoor paintball, try your hand at one of the two escape rooms, or get your game on in the arcade!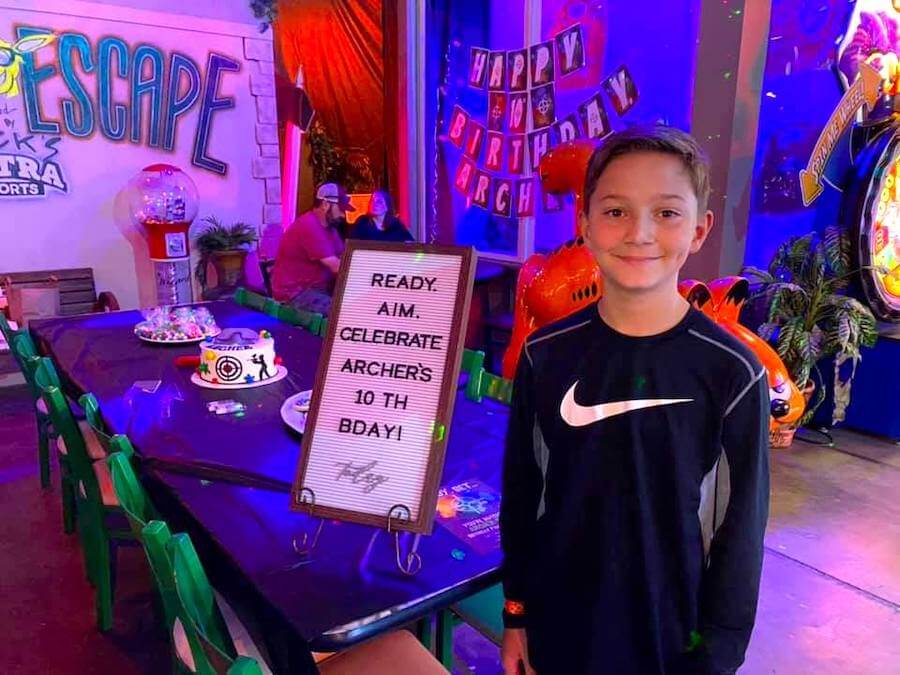 Why Choose A Laser Tag Birthday Party
Young children tend to enjoy birthday parties with specific, often character-driven themes. But as your child grows, their interests are likely to expand. This natural change can make it challenging to plan a fun, exciting birthday for your not-so-little one.
Fortunately, laser tag is appropriate for all children aged five and up. It's a hands-on experience that engages players mentally and physically. If your child enjoys playing video games or hide-and-seek, they'll likely fall in love with laser tag.
Even better, laser tag is a group activity. This feature makes laser tag a natural choice for birthday parties. Not only can the birthday child live it up by shooting lasers at enemies and earning points, but their friends can join in on the fun!
Action Jack's offers laser tag players the latest in laser tag gear and environments. Players will feel vibrations and hear sound effects upon being 'shot' by an enemy laser. Additionally, the laser tag arena offers multiple playstyles, ranging from team matches to free-for-all games.
When you choose to reserve a laser tag birthday party, you're not only choosing fast-paced fun and entertainment for your child and their guests—you're also choosing to create precious lifelong memories!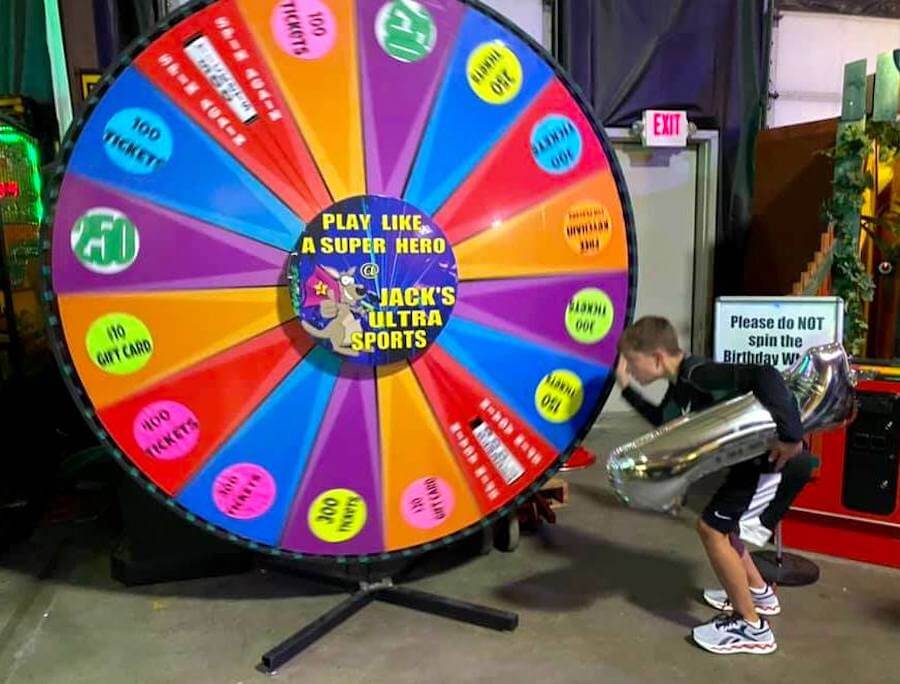 How Can I Make A Reservation?
You can easily make a birthday party reservation at Action Jack's! You can book a party package online in only a few minutes. Of course, you'll need to compare package options to find one that suits your budget and preferences. Fortunately, you have quite a few options.
Event Package Options
The first choice you'll need to make is between a weekday or weekend party. The pricing structure associated with each grouping (weekend and weekday) varies.
Parties booked for weekends during the normal open hours at Action Jack's just need a small deposit to reserve the spot and gear needed. You can pick your party size and activities online when you book.
If you want to host your party on a weekday (Monday – Friday), or a time outside of our regular hours, you can do that too! The minimum party size is ten players for a weekday party. With this option, you will very likely have the entire facility to yourself! There will be less wait time to play, and your group won't have to rotate activities with other players.
Laser Tag Only Birthday Party
It's crucial to note that parents don't have to choose multi-activity party packages. Single-activity packages are also available. So, if you're only interested in laser tag, you can expect to spend around $25 per child in your group for the activities!
Before You Book
There are a few additional bits of information you'll want to consider before booking your laser tag party at Action Jack's. For example, parents should be aware that:
No outside drinks or cups are allowed into Action Jack's
All guests will need to sign a waiver before participating in activities
A minimum $50 deposit is required to book an event at Action Jack's
Weekday parties incur an additional $100 privacy fee
Adhering to these rules can help you prepare for your upcoming party. It can also reduce any stress related to unexpected fees or fines. Remember, when you know what to expect, you can prepare for anything.
For example, do you think your child may want to explore all of Action Jack's activities? If so, you can choose a VIP package that allows them to enjoy all of the fantastic activities at Action Jack's, including indoor paintball sessions and escape room fun!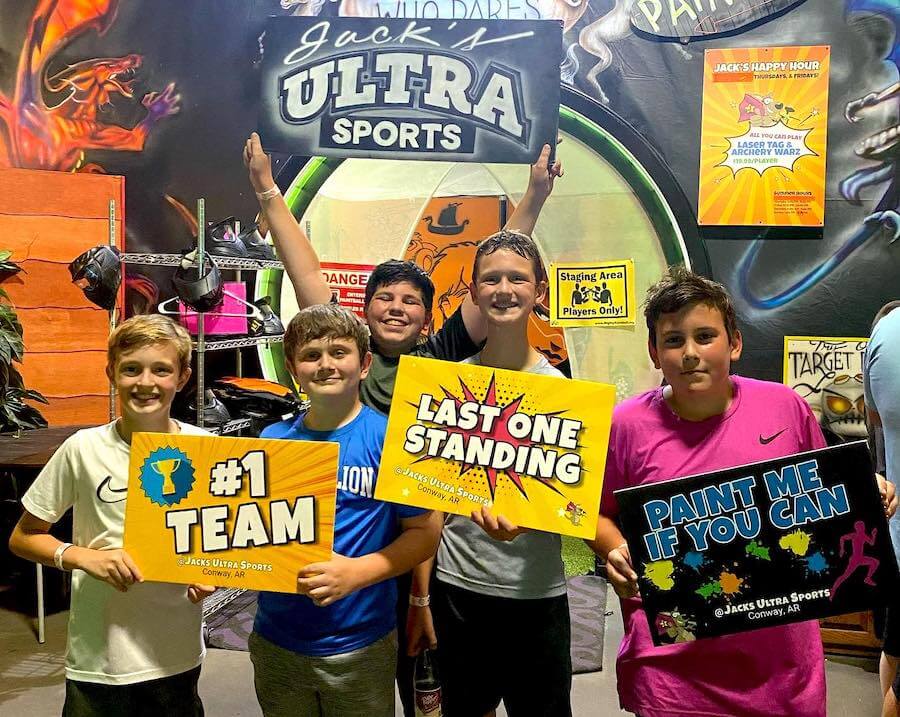 Additional Activities To Enjoy
Laser tag can be a ton of fun, but it's not the only way to enjoy your time at Action Jack's. 
Jack's offers quite a few adrenaline-pumping activities for both adults and children, including:
If you're looking to make your child's upcoming birthday party an unforgettably extraordinary affair, you might want to consider the VIP package. Of course, these thrills could also make for an ideal family night out.
You're more than welcome to come back to Action Jack's after your child's birthday party and enjoy more fun and excitement together. In fact, you can join Jack's VIP List to earn special offers and discounts on on-site activities and prizes. Just text 'paint' to 33222!
Low Impact Paintball
If the idea of playing paintball interests you, but you're afraid of the bruises and paint stains that often accompany standard paintball matches, Low Impact Paintball could be a great option! This activity uses low-impact paintball guns and smaller paintballs so you feel much less of the impact.
Because this form of paintball is entirely indoors, you can play during any season! So, if it's raining outside and you and your family are bored, a few rounds of indoor paintball could be just the thing to make everything a little sunnier.
Additionally, low-impact paintball and laser tag go hand-in-hand. Booking both activities for your child's upcoming birthday party is a fantastic way to get everyone active and ensure that all your guests have a blast!
Escape Rooms
Ready! Set! Escape! Action Jack's offers visitors the chance to test their analytical thinking skills by escaping from one of their two unique escape rooms. Guests have 15 minutes to figure out the clues that'll lead them to freedom. 
This activity is an excellent non-impact option that doesn't require any running around. Adults and children over five can become crime-solving detectives in a matter of minutes while they piece together the mysteries of these charming rooms.
Will you choose to explore The Tomb of Amunra or solve The Mystery of Lady Jackeline? If you've got half an hour to spare (and plenty of curiosity), you could do both!
Arcade Games and Prizes
No family-friendly venue would be complete without an expansive collection of video arcade games and prizes. And Action Jack's doesn't disappoint.
There are dozens of arcade games from which to choose, including air hockey tables and prize-giving claw machines. You can race against friends using one of the many racing games or challenge each other to see who can collect the most tickets!
With all the prizes from which to choose, you'll have just as much fun turning in your tickets as will playing games!
Paintball Fun For Everyone
One of the most popular activities at Action Jack's is low-impact paintball. Like laser tag, indoor paintball can be played in teams or as part of a free-for-all challenge. 
However, while indoor paintball can be a thrilling activity for adults, teens, and older children, it's not appropriate for children under eight. Additionally, players must sign a waiver before participating in indoor paintball.
That said, low-impact paintball at Action Jack's is a sport that's unlikely to result in any injuries. When you add that Jack's provides face masks and other protective gear, the difference between it and outdoor options becomes more apparent. (learn more here)
The gentleness of Jack's Ultra Sport's low-impact paintball differentiates it from outdoor paintball arenas like Action Town Park. Outdoor paintball tends to be far faster, more aggressive, and suited to older teens and adults.
Low-impact options are a great alternative to this fast-paced type of paintball. Consequently, low-impact paintball is ideally suited to meet the skill levels of new players, older children, and pre-teens. It's also an excellent choice for first-time adult paintballers.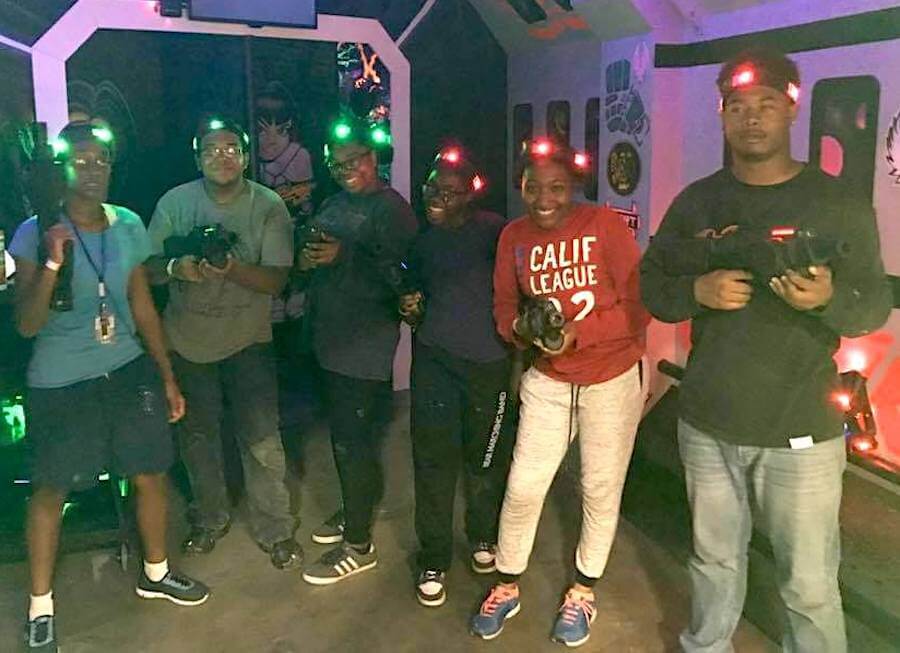 Final Thoughts
Does your child have an upcoming birthday? If so, consider booking the laser tag arena at Action Jack's! You and your guests are bound to have a wildly good time while enjoying the included birthday amenities and services.
And if laser tag doesn't suit your child's tastes or interests, why not opt for one of the other fun activities at Action Jack's? After all, this venue is also home to a low-impact paintball area, two mind-boggling escape rooms, and an arcade that offers incredible prizes!