When it comes to birthday party celebrations, there are many activities to choose from, like restaurants, pool parties, parks, etc. However, if you want to do something entertaining, exciting, and unique, there is another option. An escape room birthday party at Action Jack's will turn your birthday party into a memorable experience for everyone! 
Action Jack's is the top choice for an escape room birthday party in Conway. In addition to the escape attempt, Jack's provides several other fun activities for party-goers of all ages. 
The rest of this article will explain more about the escape rooms at Jack's and what you can expect with a birthday party. Read on to learn about the different party options available.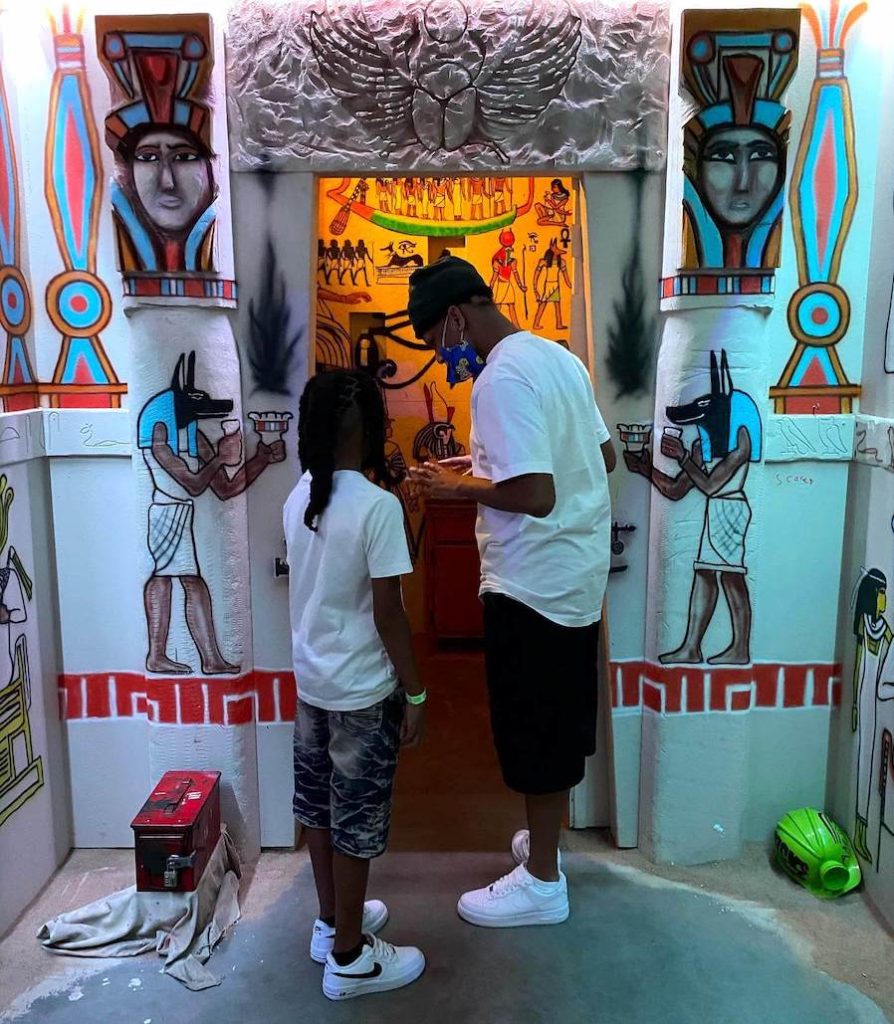 About Escape Rooms At Jack's
An escape room is an immersive game where players work together as a team to find clues, solve puzzles, and complete tasks to "escape" the room before the specified amount of time runs out. Learn more about escape rooms here.
Action Jack's offers two incredibly engaging and unique escape room experiences. Each puzzle-filled challenge is a 15-minute experience that allows 2-6 players to work together to solve the riddles and uncover the mysteries. You can choose the experience that's most suited for you and your guests. 
Escape rooms are fun for guests of all ages, but ages 5+ will get the most out of the experience. All guests under age 16 must have an adult with them.
Escape room challenges are designed to encourage cooperation and teamwork and don't involve anything physically strenuous. Players may need to use a range of skills and problem-solving to solve the various riddles they encounter.
At the start of the game, players are briefed or given a backstory to help them understand their role in solving the mysteries and puzzles to find the way out. When players get stuck, they may be able to request help in the form of a "hint."
The theme, story, and goals vary depending on whether you're completing the Tomb of Amunra or the Mystery of Lady Jackeline.
Escape Room 1 – The Tomb of Amunra
Jack's Escape Tomb is 15 minutes of riddles and puzzles where guests compete against one another while racing the clock. It requires the team to work together to figure out various puzzles while following Lead Inspector Howard Carter.
This mission has an ancient archeological theme and requires party-goers to search for ancient artifacts and other clues, solve riddles, and escape the tomb without disturbing the Egyptian gods.
To get an idea of what to expect, check out this quick video about Jack's Escape from the Tombs of Amunra:
Escape Room 2 – The Mystery of Lady Jackeline
This escape room places 2-6 guests in Lady Jackeline's office, where they must work together to solve the mystery of her disappearance. Guests have 15 minutes to find the clues she left behind and figure out her whereabouts.
This escape room is a bit more challenging than The Tomb of Amunra so it may be a better option for older or more experienced guests.
Why Have An Escape Room Birthday Party
Hosting an escape room party is a unique way to provide an enjoyable experience for the birthday boy/girl and their friends. It's more fun and exciting than a pool party or bowling night, and it's something that your guests will never forget.
An escape room birthday party is fun for all ages. Whether it's an 8th birthday, sweet sixteen party, or even a group of adults, everyone will come out smiling. It's a guaranteed crowd-pleaser!
Even if your guests have completed an escape room before, Jack's offers two unique options. They can challenge their minds in an ancient tomb adventure or solving a mysterious disappearance.
What You Can Expect From Birthday Parties at Jack's
A birthday party at Jack's will be more than just your run-of-the-mill celebration. At Jack's, your guests will enjoy many fun activities that they'll be talking about long after the cake and ice cream are gone.
Activities may include:
Low-Impact Paintball (recommended for ages 8+)
Ultimate Laser Tag (recommended for ages 5+)
2-Escape Rooms (recommended for ages 5+)
Arcade games & prizes (recommended for ages 5+)
Party Duration
A birthday party at Jack's may last between 1.5 to 3 hours, depending on the package. It's a good idea to ensure that you and your guests arrive on time so that your party's scheduled activities can start on time.
Time is built-in to your party for opening gifts and enjoying cake, so you can focus on having fun and let us worry about the scheduling logistics!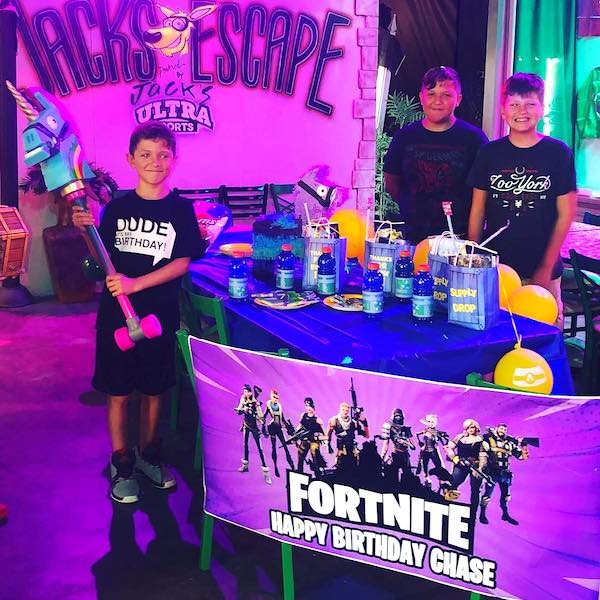 What's Included In Your Party Package
Depending on the party package, your guests will have access to all the activities offered at Jack's for either one or two sessions. Escape room attempts are included in the Do It All and VIP party packages.
Jack's also provides a party table and all equipment for activities. The party table is a reserved space for your party's food, gifts, and personal belongings.
We also allow (and encourage!) guests to bring in their own decorations and birthday cake for whatever theme or style will make the birthday boy or girl's day extra special. Drinks are available for purchase.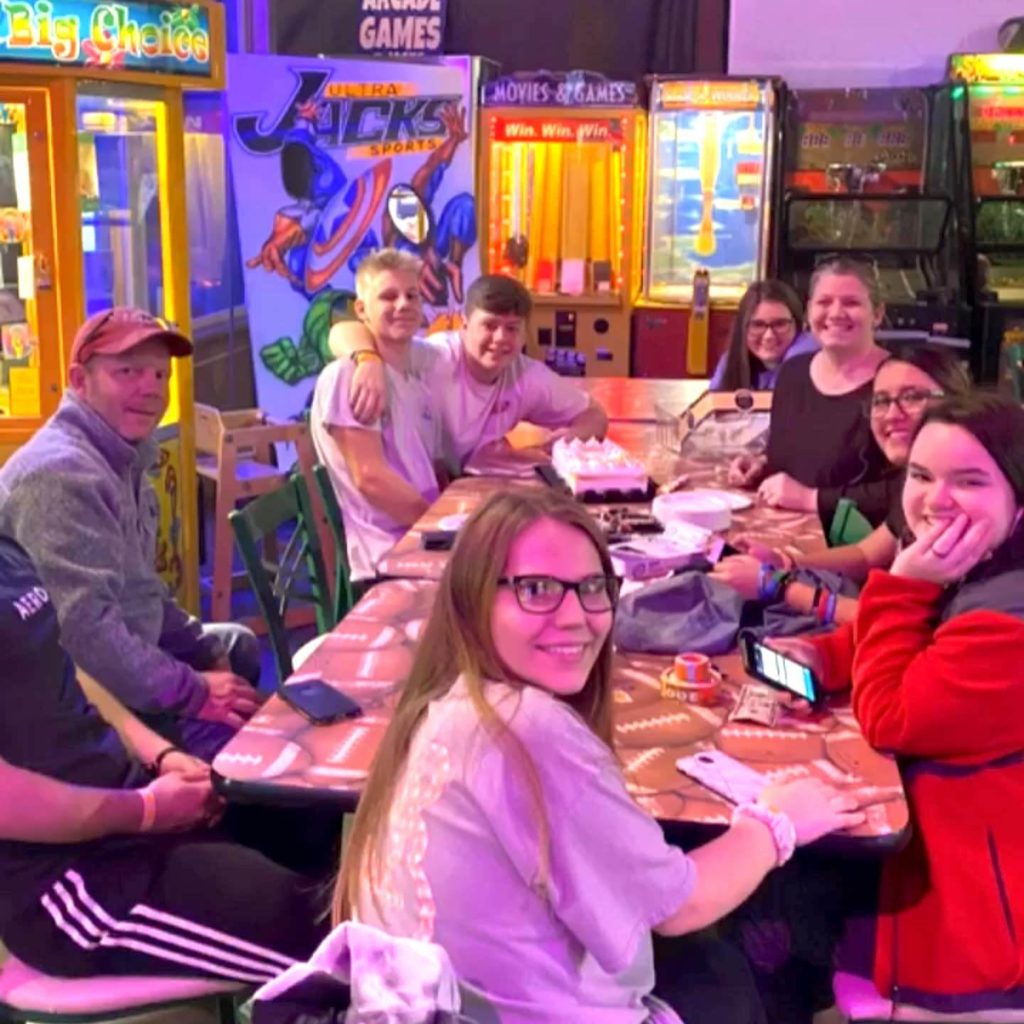 Party Options at Action Jack's
Several party options at Jack's are designed to meet your needs based on your preferred activities, budget, or party size. We offer two party package options for an escape room birthday party – the Do It All Party and the VIP Party.
Do It All Party
The name says it all for this party package! Guests will be able to "do it all," as they enjoy the following activities during your party:
1 Paintball session
1 Laser Tag session
1 Escape Room attempt
Prize Wheel spin for birthday boy/girl (at least 48 hours advance booking needed)
This party package includes all equipment and your party table.
VIP Party
The VIP Party package is an excellent option for guests who want a little more time for fun. This option includes:
2 Paintball sessions
2 Laser Tag sessions
2 Escape Room attempts
Prize Wheel spin for birthday boy/girl (at least 48 hours advance booking needed)
The VIP Party package includes all equipment and your party table.
View all party options and prices here!
Final Thoughts
An escape room birthday party is a great way to try something new while making memories that will last a lifetime. People of all ages will have an exhilarating time working together to find their way out of one of our two immersive escape room challenges.
If you're looking for a different kind of birthday fun in Conway, look no further than Action Jack's for your escape room birthday party!