Have Questions?
Check out our FAQ Section! Many of your questions about what to expect at Action Jack's can be answered below in our frequently asked questions. If you still have questions feel free to reach out to us!

How do I book a party or group at Action Jack's?
The only way to book is online. Just click 'book online' to get started! 
If you have any questions we are happy to help you, send us a text, or give us a call!
Does Action Jack's accept walk-in players?
We do accept walk-ins, though booking ahead of time is recommended for groups of 8+ players to avoid a wait time to play.
Does Action Jack's require a deposit for parties and groups?
Yes, we require a deposit to make a reservation to hold your spot/table and to ensure we have equipment for you. The deposit amount depends on the party selections you make. 
Can I cancel my party or group reservation?
Please email us as soon as you know you need to cancel or reschedule your party. You can receive your deposit back after you email us and receive a confirmation within 48 hours. (We understand things happen and would be happy to move your deposit and group to another day.)
When should I tell my party or group to arrive at Action Jack's?
We run a tight schedule and do our best to provide Jack's guests with the best experience possible. We need your help in ensuring that your guests arrive around 15 minutes BEFORE your booked time, to make sure their waivers are completed so that we can get your group started on time. Late guests and parties make it difficult to provide an excellent experience when we have to rush your group through our activities. Please be courteous and arrive on time.
Can I bring a cake or cupcakes for a party or group at Action Jack's? 
Yes! You are more than welcome to bring cake or cupcakes in when you make a reservation! However, we provide a wide selection of drinks and food at the Dig-In Cafe, so please leave those at home. No outside coolers, drinks, or food allowed.
Can I decorate for a party or group at Action Jack's?
Yes! Feel free to bring in any decorations you would like. Plan on arriving before your party starts if you need to set up or decorate. And allow for time to clean up after your party ends. We do ask that you leave the silly string at home. 
We provide everything that is needed to play our games, however, we do not provide any of the birthday accessories or decorations, we will leave that up to you!
How long do parties and groups last at Action Jack's?
Parties typically last anywhere from 30 min-3 hours depending on what package you go with! Parties aren't "timed" but depend on what speed your group moves through each activity. Most parties are an average of 1.5-2hrs.
Can I hold a party or group reservation without a deposit?
A deposit is required to make a reservation to hold your spot/table and to ensure we have equipment for you.
What if some of my guests don't show up? Do I still pay for them?
You may be eligible for a partial refund of your deposit. We use the deposit to make sure we have the necessary staff on hand for your party size.
Your deposit reserves your space and makes sure we have the staff dedicated for your party or event. Your deposit can be refunded by the next business day once we verify your area is clean, and there is no missing or damaged property.
What happens if more party or group guests arrive than the contracted amount?
Typically this isn't an issue and we can work them in. Group sizes of 10-14 are best. With more, we will just rotate them through activities.
If the date/time I want for my party is not available, what are my options?
If a time isn't available, then that time slot is already booked full for parties. Please select another day or time to book.
How do I make changes to my party or event after it has been confirmed?
Reply to the confirmation email you received if you would like to make changes.
What do I do if I need to cancel my party or event at Action Jack's?
Cancellation of your group is easy, just call us at least 48 hours before your scheduled time to receive your deposit back.
Does Action Jack's have food?
Yes! We have delicious comfort food at the New Dig-In Cafe!
Can I bring catering in for my group or party?
No outside food is allowed, you can serve food for your party guests from the amazing Dig-In Cafe!
Can I book on a weekday?
Yes! If you want to book a group on a weekday (Monday – Friday when we are normally closed) we will open up just for you! There is a minimum of 10 players. Payment is required up front to book. Book online at least 36 hours before you would like to have your event.
You can always add more than 10 players, just book online and then give us a call to let us know how many you would like to add, each additional player is extra.
How many people can I bring?
You can bring in as many non-paid people as you have paid players.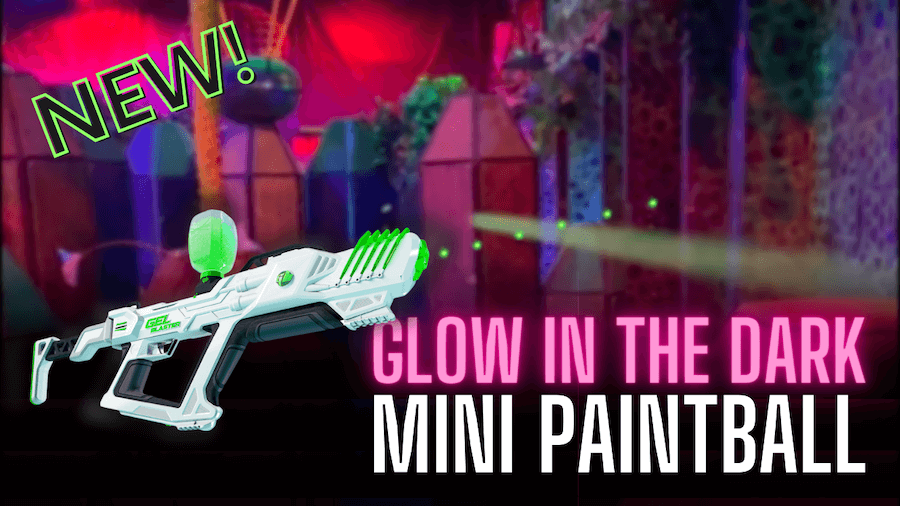 What Is Mini Paintball?
For those looking for a more modern alternative to the paintball and airsoft scene, gel blasters are here! These eco-friendly toys fire water-based gel beads that burst upon impact.

With these pellets come just enough of a little sting to make your game exciting – without causing serious physical harm like other options might. So if you're in search of an interesting way to have fun while being kinder to the environment, try giving Mini Paintball at Action Jack's a shot!
What should I wear to play MiniPaintball?
The gellets do NOT stain, wear clothes you don't mind playing in. We suggest wearing a long sleeve top and pants to help protect your skin from the impact of a gellet as you're still shooting projectiles at each other.
How long does a Mini Paintball session last?
No time-limit on Mini Paintball; play time is determined by how long you can make the mini paintballs last! An average session last 5-10 minutes.
How many people can play Mini Paintball at a time?
At Action Jack's, we suggest groups of 6-16 for paintball, but we can accompany larger or smaller groups.
What is the age limit for Mini Paintball at Action Jack's?
We suggest ages 8+ for mini paintball, (no one younger than five is allowed on the field to play or spectate.) However, age does not always dictate whether they are ready for paintball or not. Please use common sense when considering if your child is ready for Mini Paintball. Our paintballs are low-impact and are great for most players, new or experienced!
What if my Mini Paintball party/group is too large to all play together?
Parties will rotate activities if necessary, so everyone will get to play. Your mom should have taught you how to share.

How long do Ultimate Laser Tag sessions last?
Each session is ~6-7 minutes of adrenaline-pumping, non-stop FUN, right here at Action Jack's.
How many people can play Ultimate Laser Tag at one time?
Groups of 6-16 are great for our action-packed laser tag arena.
What if my Laser Tag group is too big to play together?
Parties will rotate activities if necessary so everyone will get to play. Your mom should have taught you how to share.
What kind of laser tag equipment do you have at Action Jack's?
Our battle taggers are built of a nylon fiberglass reinforced plastic that is lightweight but incredibly durable for the toughest of playing conditions. It weighs around 2 LBS and is 22.5 inches in length, 8 inches tall and about 2.5 inches wide making it a perfect tagger for players of 5+.
What is the age limit for Ultimate Laser Tag at Action Jack's?
We recommend ages 5+.

What is an Escape Room at Action Jack's?
Jack's Escape rooms are a 15-minute interactive puzzle and riddle filled experience! You will be given one clue to start you off, you need to find the rest of the clues to solve the mystery and get out of the room before the clock runs out!
How many people can participate in Jack's Escape Rooms at once?
For groups of 2-6! No reservation required to do our escape room. First come, first serve.
What is the age limit for Escape Rooms?
Jack's Escape rooms are a mental challenge, not a physical one. You will need to use problem-solving skills, figured out puzzles and solve riddles. We don't have an age limit on the escape rooms, but use your best judgment.