Company Holiday Party Venue
Action Jack's is the perfect place to host your corporate event or office holiday party! Celebrate with your crew in Conway, Arkansas, for a day or evening of holiday fun in our indoor Laser Tag and Arcade venue. We also have Low-Impact Paintball, Escape Rooms, food, and drinks!
Enjoy seasonal beverages at the Safari Lounge, and we are happy to mix up a custom drink just for your event! (Must request at the time of booking). We have a tasty food menu with crowd-pleasers that will satisfy your group.
With our laid-back vibe, you can wear whatever comfortable attire you'd like, or pick a holiday theme and go all out in your most refined ugly Christmas sweater!
"We had a fantastic experience at Jack's this week! We wanted to do a fun team party for our company, and Jack's delivered! ... we will definitely return. Thanks for the great experience!"
"Wonderful place for parties! Staff is wonderful and management is top notch! Would recommend this place to anyone!"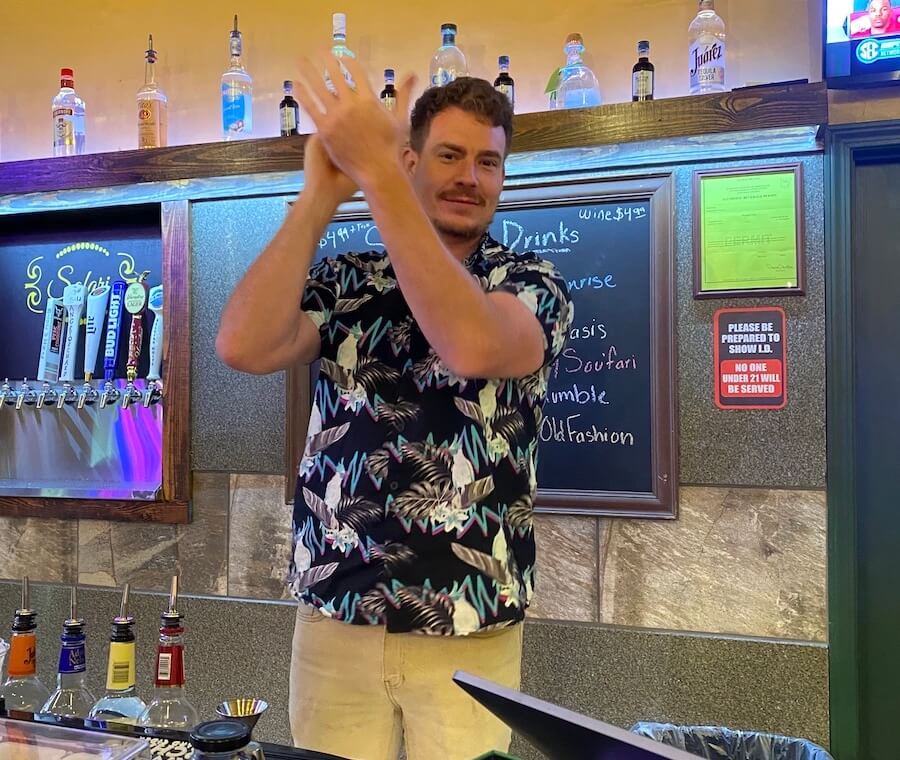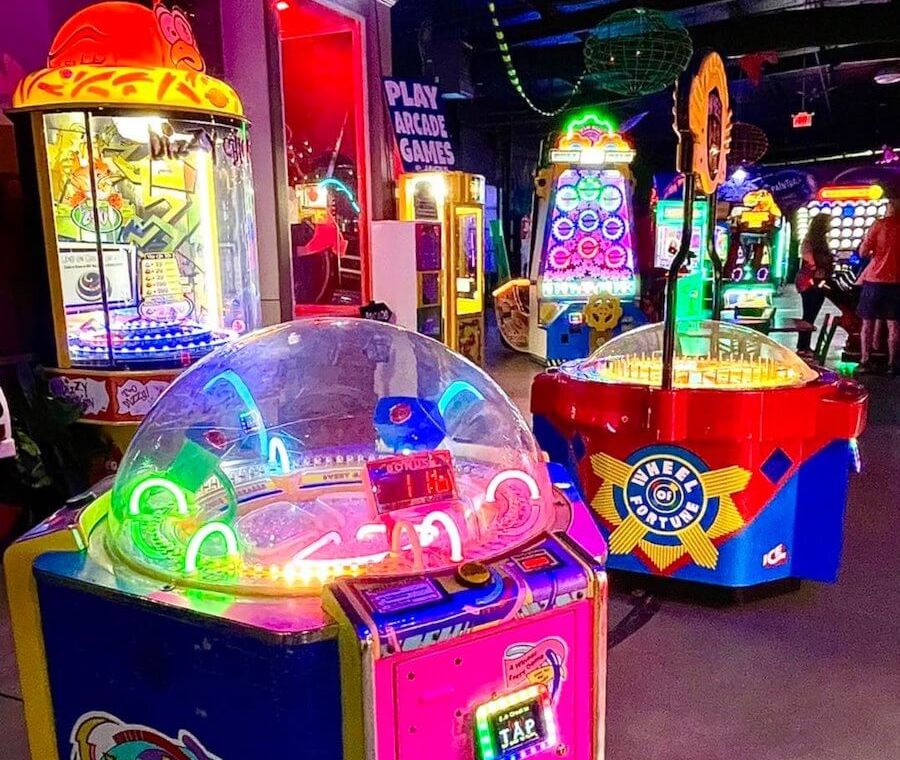 Book Your Holiday Party Online
Select the day and time of your corporate event (You can chose a weekend party and play during our

regular hours, Friday – Sunday

, or have the entire place to yourself on a weekday Monday – Thursday!)

Decide how many guests (please be as accurate as possible so we can staff accordingly)

Choose what activities your group will play. 

Pay a deposit online to reserve your party booking.
All Holiday Parties Include:
Party guide to direct your group between activities, food, and drink.

Reserved table area based on your group size. 

All equipment needed for chosen activities & games.

Game demonstration

Plates & utensils (you are welcome to bring in dessert!)
Tips For Planning An Office Holiday Party
Book your event venue as soon as you've decided where you want to host your holiday party. The most popular dates and times will fill up fast!
If you decide to have a theme, make sure your guests know about it at least 2 weeks before the event so they can dress up to match the theme.
Make sure you have enough food and drinks for all of your guests.
We have food and drink options at the Dig-In Cafe for every taste bud that are sure to enhance your holiday party. With classic appetizers, delectable entree options, party platters, and a gourmet mac & cheese bar, your guests will love this comfort food menu. 
Our Safari Lounge offers beverages for those who are 21 years old and older! Please contact us if you have any questions about the Safari Lounge drink menu.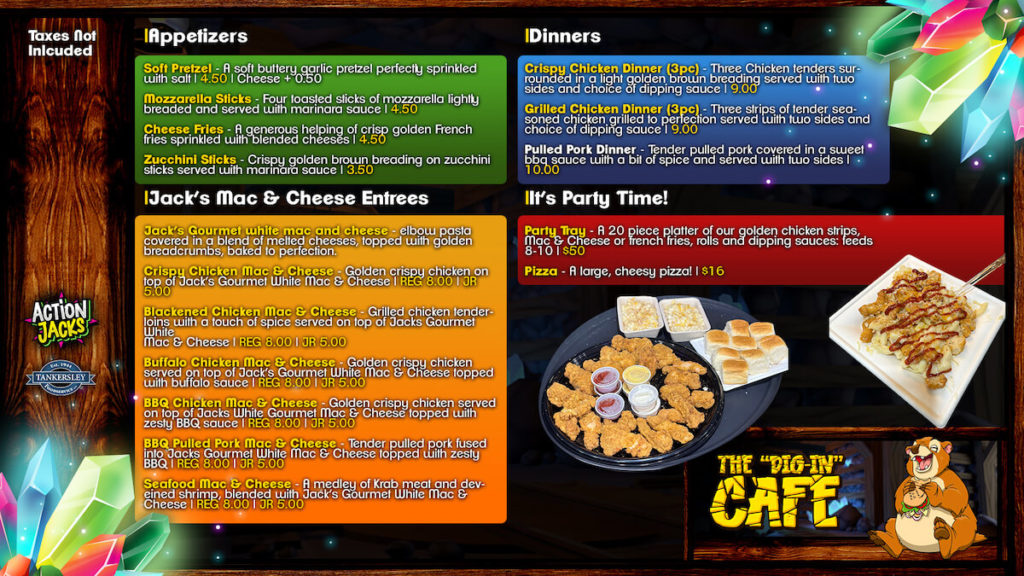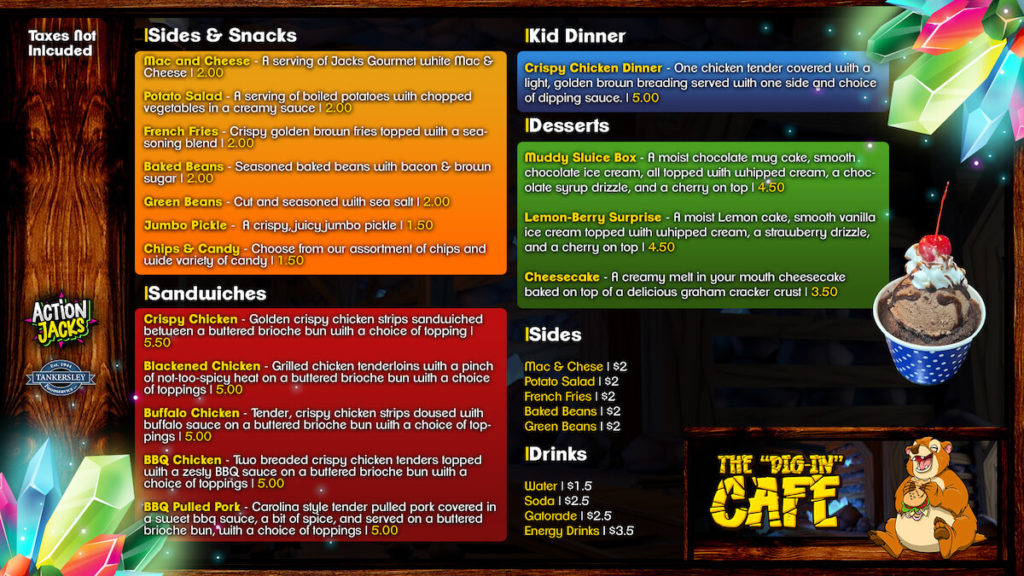 Menu selections shown are subject to availability and may vary.
Company Party Questions & Answers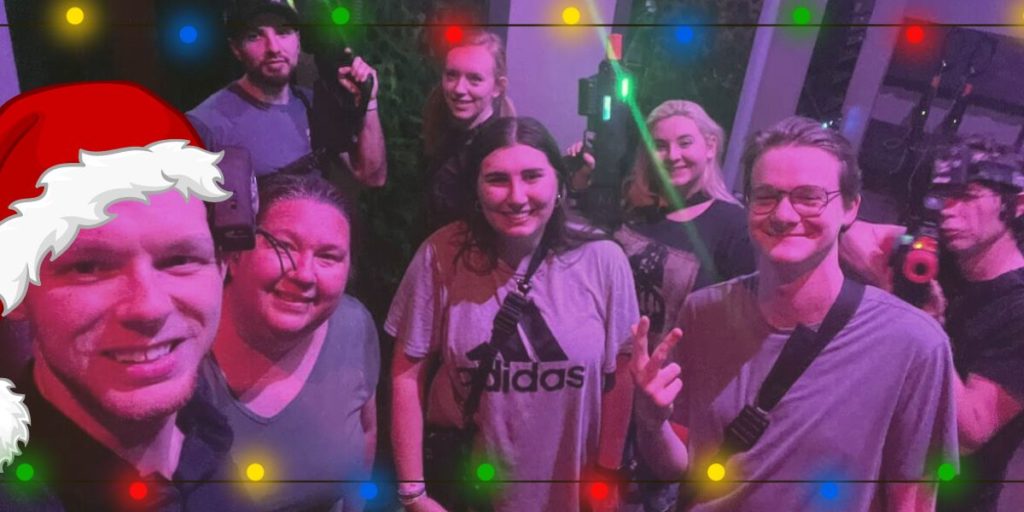 How much does it cost to host an office holiday party at Action Jack's?
Prices will vary depending on the day and time of your event, your group size, and the activities you're planning for your event. To view specific details on the price, please select your party package and group size here. 
Do party attendees need to bring any equipment?
No, we provide all the equipment needed to play our activities! Just come dressed to have fun!
What should I bring to an Action Jack's Holiday Party?
You are welcome to bring decorations for your party table and dessert!
What should I wear to an Action Jack's Holiday Party?
Come as you are! We want you and your group to be comfortable and enjoy playing. 
If your group package includes low-impact paintball, wear loser clothing that covers your legs and arms (face masks will be provided), and close-toed shoes. The paint does not stain, but we don't advise wearing your church clothes to run around in :-). 
What time should my group arrive?
Make sure your group arrives 15 minutes before your party is scheduled to start.
We recommend telling them:
We run a tight schedule and do our best to provide Jack's guests with the best experience possible. We need your help in ensuring that your guests arrive around 15 minutes BEFORE your booked time, to make sure we can get your group started on time. Late guests and parties make it difficult to provide an excellent experience.
What if I need to cancel my corporate party?
Please email us as soon as you know you need to cancel or reschedule your party. You can receive your deposit back after you email us and receive confirmation within 48 hours. (We understand things happen and would be happy to move your deposit and group to another day.)
How do "Weekday Parties" work?
If you want to book a group on a weekday (Monday – Thursday when we are normally closed) we will open up just for you! There is a minimum of 10 players. Payment is required up front to book. Book online at least 36 hours before you would like to have your event.
You can always add more than 10 players, just book online and then give us a call to let us know how many you would like to add, each additional player is extra.
What if some of my guests don't show up?
You may be eligible for a partial refund of your deposit. We use the deposit to make sure we have the necessary staff on hand for your party size.
Your deposit reserves your space and makes sure we have the staff dedicated for your party or event. Your deposit can be refunded by the next business day once we verify your area is clean, and there is no missing or damaged property.
Do I need to pay a deposit to book an office holiday party?
A $50 minimum deposit is required to make a reservation to hold your spot and to ensure we have equipment for you. Larger group sizes may require larger deposits.
Groups that have a significant difference in players from their reservation may forfeit their deposit. We reserve the right to hold or refund deposits.
How do I make changes to my party after it has been confirmed?
Reply to the confirmation email you received with your request if you would like to make changes.
Have more questions?
Email our party planner today and we will get back to you very soon!
Book Your Company Party Today
If you're looking for a unique and fun place to host your holiday party, look no further than Action Jack's for arcade games, laser tag, low-impact paintball, and more! We offer a festive atmosphere and plenty of activities to keep everyone entertained. Plus, it's perfect for team-building exercises. So what are you waiting for? Book your party now!
Action Jack's - Conway, Arkansas