Paintball is an exciting game that takes lots of practice, skill, and courage. In Arkansas, you can play indoor or outdoor paintball. If you are wondering which one is best for you, keep reading!
In general, indoor paintball is better for beginners since it uses low-impact paintballs. In contrast, outdoor paintball is the better choice for more experienced players looking for a thrilling experience.
Read on for additional information on:
The differences between indoor and outdoor paintball.
Which is better for you based on your skill level.
The pros and cons of each.
The things to consider when choosing where to play.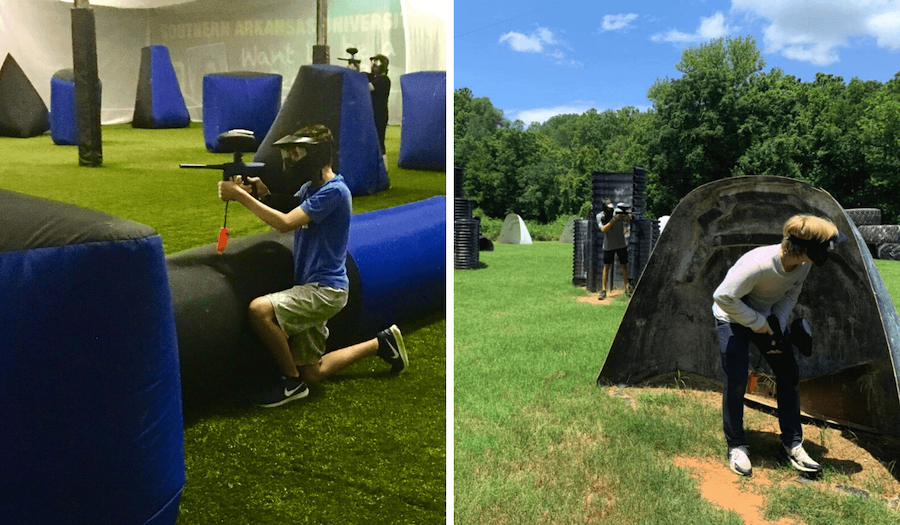 Key Differences Between Indoor and Outdoor Paintball
Indoor and outdoor paintball are both popular. But there are several key differences between them.
Exposure To The Elements
While outdoor paintball is played in forests or urban areas, indoor arenas are located inside buildings, like warehouses or stadiums. This means that weather will never be a factor for participants of an indoor game!
On the other hand, players who play outdoors will have to cope with whatever weather conditions are present. This may cause inconvenience, especially when you postpone a game due to harsh weather.
Game Duration
In general, paintball games can last as little as 10 minutes or as long as one hour. Indoor paintball games are typically shorter, lasting about 5-15 minutes depending on the players and game type, while outdoor games tend to be longer. This is because outdoor players have a larger area to play compared to in an indoor arena.
Visibility
Outdoor arenas are more open, and players must often rely on camouflage and strategy to avoid being shot.
On the other hand, indoor games are confined within a small area of a warehouse or stadium. This means indoor players have less cover and are easier to spot.
Types Of Paintball Used
In general, paintballs used in indoor arenas' are smaller and feel more like a rubber band snap on impact.
On the other hand, outdoor paintballs are a little larger and use a more powerful force that sometimes leaves a bruise. Because of that, inexperienced, young, or beginner players who don't want to be hit with high-impact paintballs are advised to start with indoor paintball.
Safety
One thing that should always be prioritized by players and the paintball field employees alike is safety. At Action Jack's, we have experienced referees on the paintball field at all times, making sure everyone stays safe and follows the rules. Protective masks are provided and required to be worn by everyone out on the field. We also have extra protective vests available by request. 
Tip: When choosing an indoor arena, make sure the field is kept clean. This is an excellent indicator of a well-run facility.
Size Of Playing Field
Outdoor arenas often include several playing fields that players can choose from, making outdoor paintball very exciting. They also offer larger size playing fields. Indoor venues have much smaller playing fields and shorter distances between each base.
Paintball Guns Used
Indoor paintball uses smaller guns and smaller paintballs compared to outdoor paintball, allowing for a less painful, game. When you play paintball inside, you use .50 caliber paintballs as opposed to outdoor paintball, which uses .68 caliber. Of course, at Action Jack's we provide all of the equipment needed to play indoor paintball.
Indoor vs. Outdoor: The Pros And Cons
While it's nearly impossible to declare a clear winner between the two types of paintball venues because it will depend on the situation and needs of every player, there are several points to consider.
Let's look at some of the pros and cons of these games.
Pros of Indoor Paintball
Typically hurts less than outdoor paintball because low-impact paintballs & guns are used. (learn more here)
Games are shorter, so players rotate faster between game types.
Play is unaffected by the weather conditions outside.
Players as young as eight can participate.
Cons of Indoor Paintball
Indoor arenas are often smaller than their outdoor counterparts.
There is typically less field variety compared to outdoor paintball.
You can not bring your own paintball gun or equipment to play indoor paintball.
Pros of Outdoor Paintball
Because players are out in the open instead of indoors, they can use camouflage and other techniques.
Outdoor players have a wider selection of fields to play on, and players may also have the option to play on a more advanced field.
Outdoor fields typically allow more tools like smoke grenades to be used.
Players are allowed to bring in their own equipment, which is really fun for enthusiasts.
Cons of Outdoor Paintball
Weather conditions can limit your playing time.
It tends to be more expensive.
It can be more aggressive than indoor paintball.
You have a higher chance of going home with some bruises or marks from playing.
Which Is Better for You, Based on Your Skill Level?
While there are several things that you should consider when choosing a paintball field to play, one of the most significant factors is your skill level.
If you're a beginner, indoor paintball you will likley enjoy indoor paintball. You would start with a low-impact gun that is safe and easy to handle. If you're an experienced player, you can play both indoor and outdoor paintball.
However, if your primary concern is safety, I recommend that you stick to playing indoors rather than outdoors. Here's a video you'd be interested in for additional information on which of the two is better:
Things To Consider Before Choosing a Location
Before heading out, you should consider several things before choosing a location to play. Let's look at these factors more closely.
Size of Playing Field
In outdoor paintball, it's essential to be familiar with the playing fields before you decide on a location. It's also crucial to ensure that the playing fields are large enough for your skill level and the number of players participating in the game.
If you're a small team of beginners, you may want to start with indoor arenas like the ones offered at Action Jack's. In contrast, if you're skilled in the game, it would be more thrilling to try out the outdoor version offered at Action Town Park. 
Type of Paintball Used
Many paintball venues use traditional, water-based paintballs. However, some paintball fields prefer using low-impact and dye pellets. If you're playing indoor games, it's best to choose a field that uses low-impact or dye pellets so you won't get hurt.
Safety
Safety is one of the most important factors to consider when choosing a location. You may want to play in a place that ensures safety, especially if you have kids who want to join in with the fun.
Tips for Playing Either Type of Paintball
Now that you know the different factors to consider when choosing a paintball field, it's time to learn a few valuable tips before you go out and play.
Here are some helpful tips that can help you through your first experience of playing the game.
Do Your Research
You'll want to do some research and find out if the field has a waiting list so you can book a slot ahead of time, especially if you're going to play outdoor games. This prevents you from waiting in line before you can start playing.
Be Prepared
To get ready for the big day, wear clothes that are easy to move around in and won't restrict your movement too much. You'll also want to wear close-toed shoes. Action Jack's has all the equipment and safety equipment you need to play indoor paintball, so you don't need to bring any.
Be Aware of Your Surroundings
Players can get too involved with the game that they forget to keep watch of their surroundings and get hurt. To keep safe while playing, it's best to orient yourself to the playing field and the boundaries you should not cross.
Communicate With Your Teammates
Before playing paintball, it's helpful to talk to your teammates about the game you'll be playing, the rules of the game, and any other information that might help during gameplay.
This helps avoid confusion on the field because everyone knows what they need to do to win the game.
Have Fun
Most importantly, have fun!
Paintball is a great way to bond with friends and family members, so don't forget to enjoy every moment of your experience while playing. This is an excellent way to get rid of stress and have some fun after a hard day at work.
Final Thoughts
In brief, several factors can help you decide which version of paintball to play, such as:
Your skill level
The size of the playing field
The type of paintball used
If you're a skilled player, you may want to play outside where the playing field is more extensive, and you have more freedom to move around. However, if you're just starting out and prefer a safer game, it would be best to play indoor paintball where the playing field is smaller and you don't need to worry about harsh weather conditions.